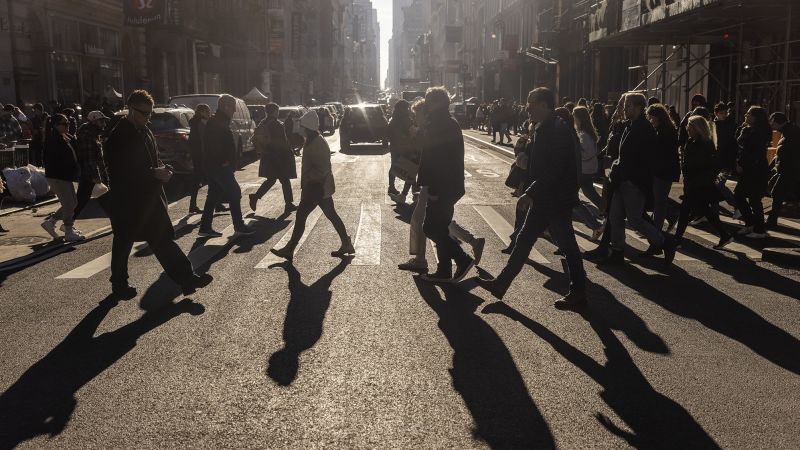 A key barometer for the health of the economy continues to flash a recession warning sign, indicating a downturn is in store for the US in the near future. A growing number of business leaders agree the US economy is getting worse.
America is not in an official recession — not yet, anyway — but the Conference Board's Leading Economic Index declined for the 10th consecutive month, falling in December by 1% to 110.5, according to a report released Monday by the business think tank. Economists were expecting a decline of 0.7%, according to Refinitiv.
On average, the index peaks about a year ahead of a recession, according to the Conference Board. The index appears to have peaked in February 2022, the Conference Board noted.
"There was widespread weakness among leading indicators in December, indicating deteriorating conditions for labor markets, manufacturing, housing construction, and financial markets in the months ahead," Ataman Ozyildirim, the Conference Board's senior director of economics, said in a statement.
Seven of the index's 10 components declined in December, and the trajectory of the LEI continues to signal a recession, according to the report.
"Overall economic activity is likely to turn negative in the coming quarters before picking up again in the final quarter of 2023," Ozyildirim said.
The official arbiter of a recession is a panel of National Bureau Economic Research economists, who take an array of economic indicators into consideration before making a determination — which can sometimes occur after a downturn has already begun.
But about 52% of economists surveyed by the National Association for Business Economics believe there's a more than 50-50 chance the US will enter a recession this year, according to the NABE's latest business conditions survey released Monday morning.
"For the first time since 2020, more respondents expect falling rather than increased employment at their firms in the next three months," Julie Coronado, NABE's president, said in the report. "Fewer respondents than in recent years expect their firms' capital spending to increase in the same period."
US economic activity has shown signs of slowing in recent months as the Federal Reserve has unleashed a barrage of interest rate hikes to bring down inflation.
Fed officials say they're seeing progress on inflation but that restrictive monetary policy — and future hikes — will continue to occur.
The next two-day meeting for the Fed's rate-setting committee starts January 31. Expectations are for the central bank to raise rates by a quarter point, according to the CME FedWatch tool.
Before that meeting, the Fed will have additional economic data to review: Fourth-quarter GDP data and the Personal Consumption Expenditures report (which contains the Fed's preferred inflation gauge) will be released Thursday and Friday, respectively.