view original
post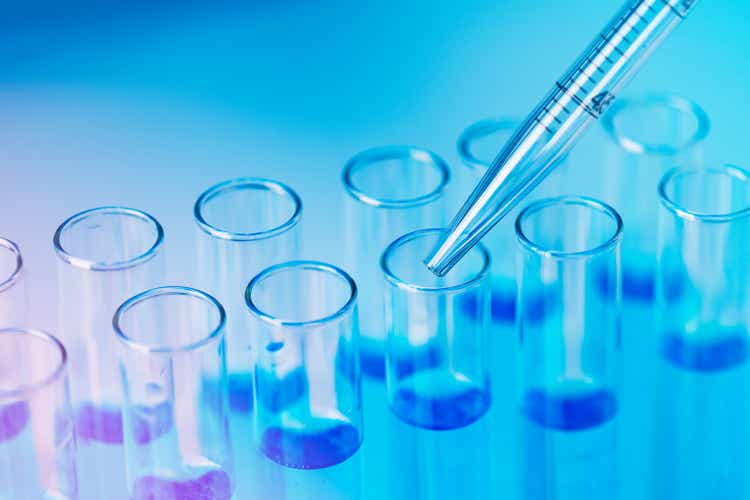 The question that comes immediately to mind for the reader is why is biotech the most hated sector.
The biggest issue is that with the sharp rise in interest rates, stocks that have no profits were and are still shunned. This is totally understandable. The way that biotech stocks "work" is that many small biotechs concentrate on isolating a potential treatment and through research that could last years, start to bring a treatment through Phase 1 to Phase 3. Once a treatment reaches 2 and 3 a large biotech or giant pharma company will swoop in and acquire the startup, and start the costly process of getting final approval setting up manufacturing, and selling to docs. This model was severely disrupted by Lina Khan's FTC-challenging acquisitions of biotechs. This means that many of these developmental companies have to retrench, cut staff, and use the secondary market to raise funds. Clearly, this affects biotech stock prices right now. This combined with the lack of profits that investors now demand further depresses these names. All of the names in this article have revenue, and some have soaring revenue, but they choose not to show profits because they have these fantastic pipelines and treatments that they want to develop.
The reason why I thought it was timely to bring this investment idea that we are starting to see a bit of a rebound… Take a look at the equal-weight biotech ETF (XBI). Equal-weight means that even the smallest stock can influence the price of the overall ETF purely by price. This is opposed to the Cap-Weighted Biotech ETF (IBB).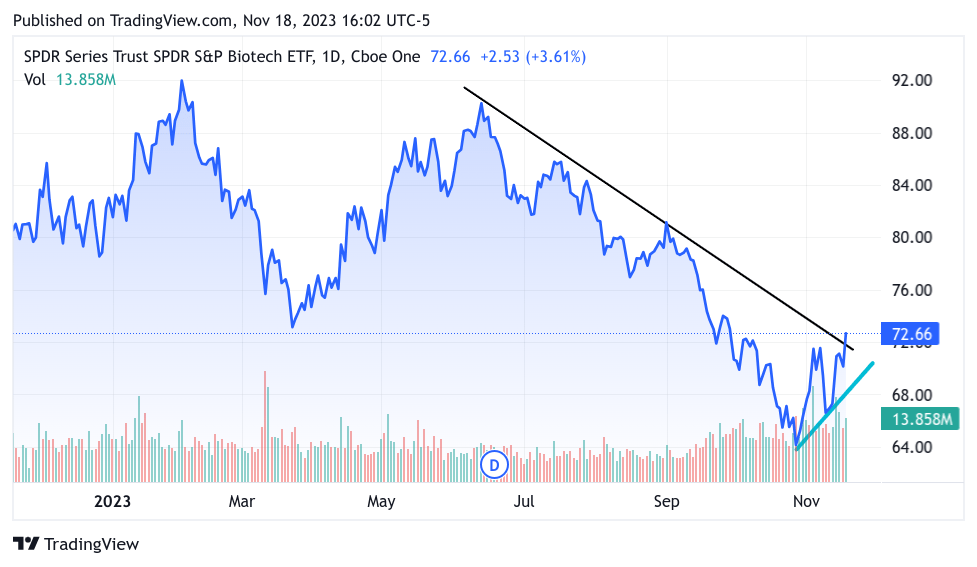 As you can see from the 1-year chart above, the XBI has been going straight down for about 6 months but just now has it barely broken the downtrend. This captures my attention as a chartist. From a purely technical basis, we don't care why, but since I apply both charting and some fundies, I will conjecture that the perceived break in rising rates is giving life to this beleaguered sector. If you look carefully and the bottom margin with the red and green lines you will also see that the volume has risen sustainably, and is also a great technical indicator. The black diagonal line marks out the downward thrust and the green is the bounce. There is a gap between the green line and the price movement, that I think will retrace to that trend line. Specifically, I expect that the price action will bring the ETF to the support of 70. Not a big drop but perhaps an opportunity to take advantage of the change in the popularity of biotech names. Which I think can be improved.
Don't wait for the general biotech index, to get the most benefit pick some specific names.
Most stock market generalists will tell you to avoid speculating in individual small-cap biotech since the drug approval process is so byzantine and the technology behind biotech is so hard to understand. I wholeheartedly agree. I find the underlying science completely incomprehensible. That said, it keeps everyone out of the space. So much so, that even the most obvious bull cases for a particular biotech are overlooked. The margin of error is so large that even a genetic illiterate such as Moi has a better-than-even shot of getting some names right.
Criteria
So what are my criteria for selecting a biotech name when I don't know a PCR from CRISPR? My criteria are really simple and as I said individuals are so intimidated to select individual names that some setup practically shout "buy me". As always, I am only recounting what I am doing personally, and I do have a coterie of Group Mind Investor Members who are active with me as we assess names. I suggest being even more gradual in acquiring these names than I do with other sectors. I am also very price-conscious. I look for Biotechs that are at least at phase 3, which is the last phase before they go to a committee that analyzes the data and makes a recommendation to the FDA. I am looking for a Biotech that addresses areas that have no current treatment. I especially am interested in neurological disorders like Alzheimer's, Depression, OCD, and others, Genetic Diseases, and Cancers. Then the next level is when these treatments are approved, inevitably there will be a negative news item. In reality, this negative news is deemed negative because these press releases are read by "robots" that are programmed to pick up phrases almost always get it wrong, if not always then more than enough times that it creates great opportunities for patient investors. Yes, this is not a trade this is about patient capital.
Akero (AKRO) On October 2nd, AKRO was at $50 per share, by October 9 it was at $12. The stock fell because the goal of the primary endpoint wasn't reached however, what was called the SYMMETRY study did achieve statistical significance in one of its secondary endpoints of NASH resolution with no worsening of fibrosis. More than half of the patients receiving EFX – 63% in the lower dose group and 60% in the higher dose group – experienced NASH resolution, compared to 26% of patients on placebo. That means that AKRO can reformulate the testing and move this treatment to the next phase. I think AKRO is a very good risk, I picked up some shares about 1.5 weeks ago at 15.40. The Yahoo Finance 12-month average price target is 42.88
Apellis (APLS) Recently the biotech began selling its treatment for treating geographic atrophy (GA) SYFOVRE. Before this treatment there was none and it caused blindness. When the treatment began one committee member made some negative statements, and highlighted 6 patients that ended up being blind. This after 10s of thousands of treatments were successful, yet the stock cratered. The software robots read the subject line and sold the stock by the bucketful, it fell to 19, it was as high as 94. APLS has slowly recovered and is now at 50, my cost basis is 26, but I still am collecting shares when it drifts under 45. With patience, you could build a position with a cost basis in the mid-40s… They have a fairly extensive pipeline and I see no reason why it doesn't move back to the 52WH of 94. Yahoo Finance's average 1 year price target of 71.19 I'll take that.
Axsome (AXSM) specializes in the development and delivery of novel therapies for central nervous system (CNS) disorders and released its financial results for the third quarter ending September 30, 2023. The company reported significant revenue momentum driven by a solid performance from both Auvelity and Sunosi. On November 6 AXSM published tremendous revenue growth – reporting a 244% year-over-year growth in total product revenue for 3Q 2023, amounting to $57.8 million. Several Phase 3 trials are on track for completion and initiation in 4Q 2023 and 1Q 2024. AXSM closed at just under 60, this is 30 points below the 52WH. AXSM is in what I consider the sweet spot in the CNS area. The stock had an unsuccessful secondary, that it never recovered from. The offering was at 75 when the stock was trading at 85, this goes back to July and the stock just never recovered, yet it has super-successful treatments growing like crazy and they also have a fantastic pipeline albeit at phase 2. They are testing ADHD, and Alzheimer's, in these trials. Just this Friday I put in a bid for 56.87 and got filled. I have another purchase order at 54.87, I buy tiny bits over time. This is a principle of the Cash Management Discipline – CMD. part of trading practice at Group Mind Investors. Yahoo Financial's 12-month price target is 115, I'll take that.
Sage (SAGE) OK this one boggles the mind. SAGE announced a breakthrough treatment for which there is no treatment right now. Post-Partum Depression, is an untreated condition that the medical community really doesn't have a handle on how many new mothers suffer in silence. As the news becomes more common knowledge I believe more and more women will step forward. Right now "only" 10% to 15% experience PPD, yet it is so serious that it can end in suicide. Instead of the stock soaring and shareholders cheering this approval the stock has crashed. Why? Because the FDA delayed its approval of what is seen as a bigger market Major Depressive Disorder. The FDA requested further of data for the treatment not an outright rejection, so MDD is not off the table. They also develop other treatments for brain health, so if you have patient capital, take a look. The stake is trading at 19, and Yahoo Finance's 12-month price target is at 25. On this one I don't agree, I think the sufferers of PPD is way under-reported, and more young mothers will step forward once they hear there is a treatment. Also, I believe it will work for MDD once they bring forward more data. SAGE also has Bipolar Depression, Essential Tremors, Parkinson's, Epilepsy and Huntington's. These are at phase 1 and 2 which I don't normally count but pointing out that there is an extensive pipeline.