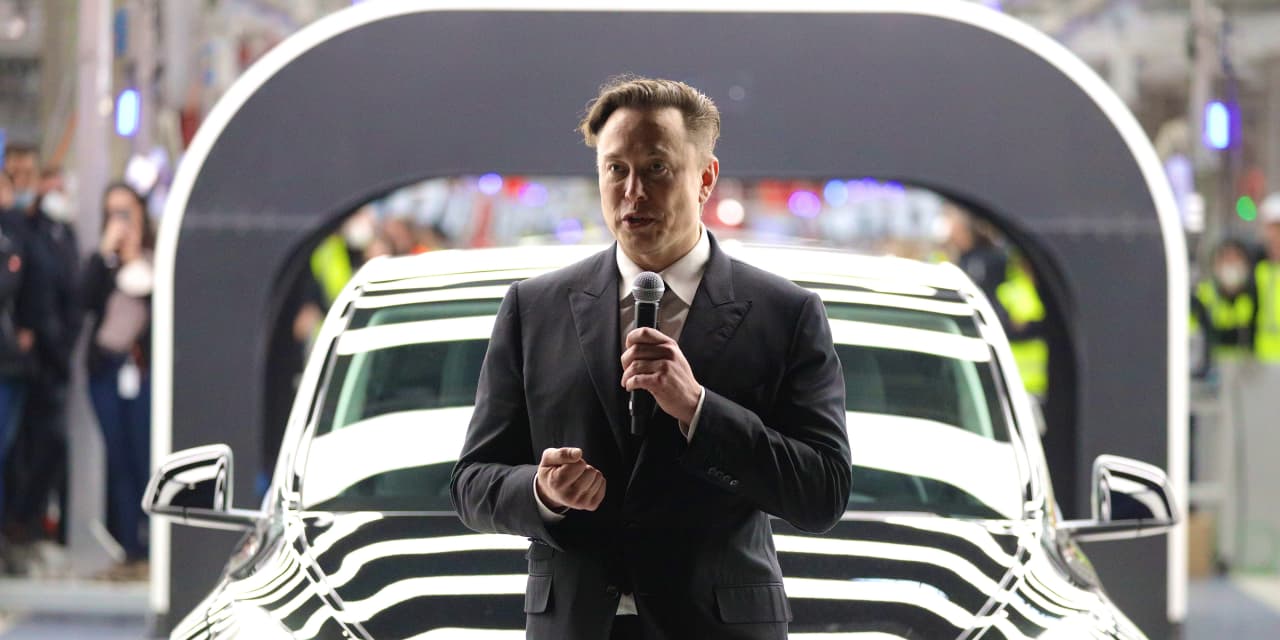 Tesla Inc. shares fell nearly 7% on Thursday as investors continued to fault the electric-vehicle maker for hosting an investor day scant on the details and one that did little to bridge the gap between bulls and bears.
Tesla stock
TSLA,
-5.85%
was on track for its lowest close since Feb. 3, when it ended at $189.98, and extended its losing streak to a third session.
Tesla hosted its first-ever investor day late Wednesday, teasing a "next generation" EV platform but punted questions around timing, looks and production to a yet-to-be-scheduled product event.
The bulk of the four-hour presentation was spent showcasing Tesla's capabilities and airing global aspirations toward electrification and sustainability.
Alex Potter with Piper Sandler said he talked with several Tesla clients at the event, and came away from these conversations sensing that "the 'first blush' response was muted (at best), given a lack of concrete information."
"We also expected a bit more 'meat on the bone' — even if a full-scale product unveiling was never in the cards," Potter said.
"So we, like everyone else, were disappointed that the company wasn't more forthcoming with information. But it would have been out of character for (Tesla) to reveal explicit financial guidance, so in this regard, we were neither surprised nor disappointed," the analyst said.
Wedbush analyst Dan Ives, a known Tesla bull, said in a note Thursday that Tesla's story remains compelling.
While there were no "specific details" about the cheaper next-generation Tesla vehicle, expected to be under $30,000, "the stage is set for this car to be produced and scaled globally," he said.
Overall, Tesla still is "at the top of the EV mountain," while competitors are now just making the climb, he said.
Baird Equity Research analyst Ben Kallo also believes that Tesla is "several years ahead of the competition on many fronts."
The company "has a clear vision and path" to introduce the next-generation EV, and the platform "is expected to improve product affordability, drive cost and efficiency improvements through innovation, and benefit from scale."
See also: Mexican president says Tesla committed to building a plant in Mexico
Others remained skeptical. The investor day was "long on vision, short on specifics," Bernstein Toni Sacconaghi said.
Tesla's approach to the new vehicle, focused on "getting initial design and production as locked-in as possible," might suggest a longer time to market, Sacconaghi said.
"We do not believe that Tesla can deliver a low-cost offering in volume before 2025, and believe that Tesla will need to lower price in interim to hit its growth targets over the next two years," he said.
The event essentially reaffirmed "the bull case that Tesla has a structural cost advantage and will use it to achieve 'unprecedented scale,'" Sacconaghi said.
"While it is undeniable that Tesla has a cost advantage compared to developed-market peers today … we believe that competitors will increasingly close the gap in cost," he said.
Investor attention will shift to first-quarter deliveries, and whether Tesla's January price cuts had an impact on demand, Jeffrey Osborne with Cowen said in his note.
Tesla is expected to report the quarterly deliveries, a proxy for sales, in early April.
Of 46 analysts surveyed by FactSet, 30 have an overweight or buy rating, 11 have a hold rating, and five have an underweight or sell rating for Tesla.
Tesla shares have lost about 35% in the past 12 months, compared with a loss of about 10% for the S&P 500 index.
SPX,
+0.76%