view original
post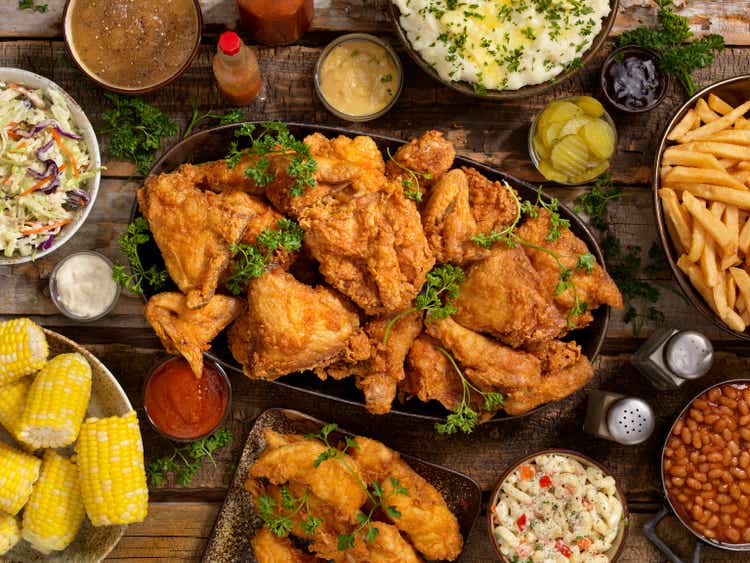 Introduction
As consumers tighten their wallets, feeling the pinch from inflation, I'd like to talk about the food giant, Tyson Foods (NYSE:TSN). Tyson is one of the largest food production companies in the world, with a diverse portfolio of meat products and a long track record of financial performance.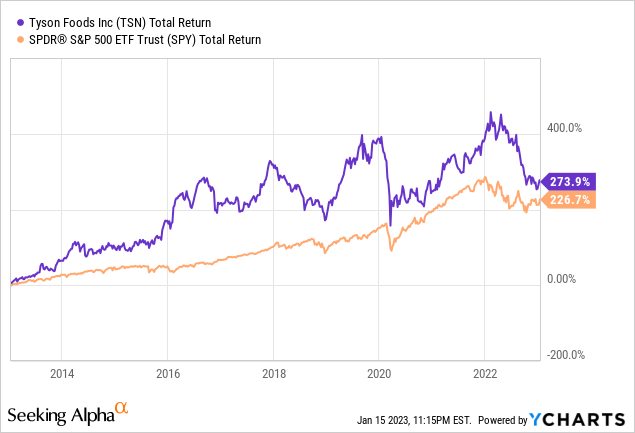 Founded in 1935, the company has grown to become a significant player in the meat, poultry, and prepared foods markets. Despite facing challenges from changing consumer preferences and increased competition, Tyson Foods has remained a lucrative stock investment for investors outperforming the S&P 500 (SPY) by ~50% over the last 10 years.
In this article, we will take a closer look at the company's financials, growth prospects, and valuation to help investors determine if Tyson Foods is a good fit for their portfolio.
Is
this chicken seller a finger-licking good investment?
Operating Performance
Tyson Foods has seen a mixed performance in its operations in recent years. In 2020, the company faced challenges due to the COVID-19 pandemic, which led to supply chain disruptions and increased costs. The company also experienced a shortage of workers in some of its plants. As a result, Tyson Foods' financial performance was affected in the short term, with a decline in sales and profitability.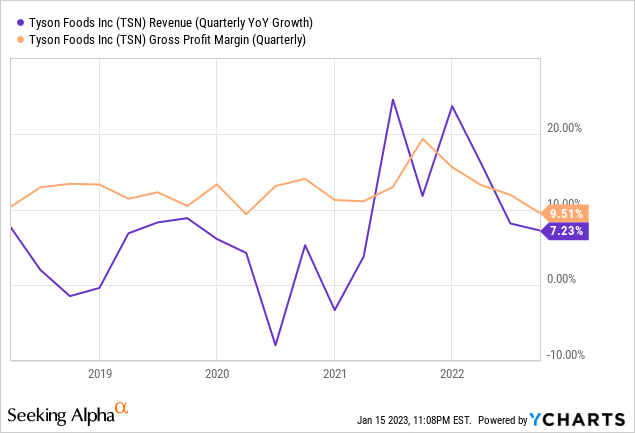 However, the company has been able to recover in 2021, and its financial performance improved as the pandemic situation improved, and supply chain issues were resolved. The company reported an increase in its revenue and gross profit margins in 2021.
Additionally, Tyson Foods has also been investing in new technologies and expanding its product offerings to cater to changing consumer preferences, such as plant-based meat alternatives. These efforts have helped the company to adapt to the changing market conditions and position itself for long-term growth.
Overall, Tyson Foods' recent operations were affected by the pandemic but the company has been able to recover and has shown an improvement during recent quarters as it takes steps to position itself for long-term growth.
The Growth Opportunity
While product innovations do come by from time to time they are exceedingly rare in the meat production industry. To succeed in this industry it's more so about cost control, pricing correctly, and the basic fundamentals of its operations.
As a mature company in a relatively stable industry, it is my view that the best lever Tyson can pull to drive growth is in international expansion, especially through M&A consolidation of local competitors.
International expansion: Tyson Foods has been expanding its presence in key international markets, such as Europe and Thailand, through strategic acquisitions and partnerships.
For example, in 2019, Tyson Foods announces an agreement to acquire Thai and European Operations from BRF S.A., including processing facilities in Thailand, the Netherlands, and the United Kingdom, to expand offerings of value-added protein in global markets. As Tyson applies the knowledge it has gained from operating in the USA into foreign markets they may be able to take share from less experienced local operators.
The acquisition of the Thai operations from BRF is potentially noteworthy as it expands its presence in the rapidly growth south east Asian market where consumers are increasingly consuming meat as their economies develop.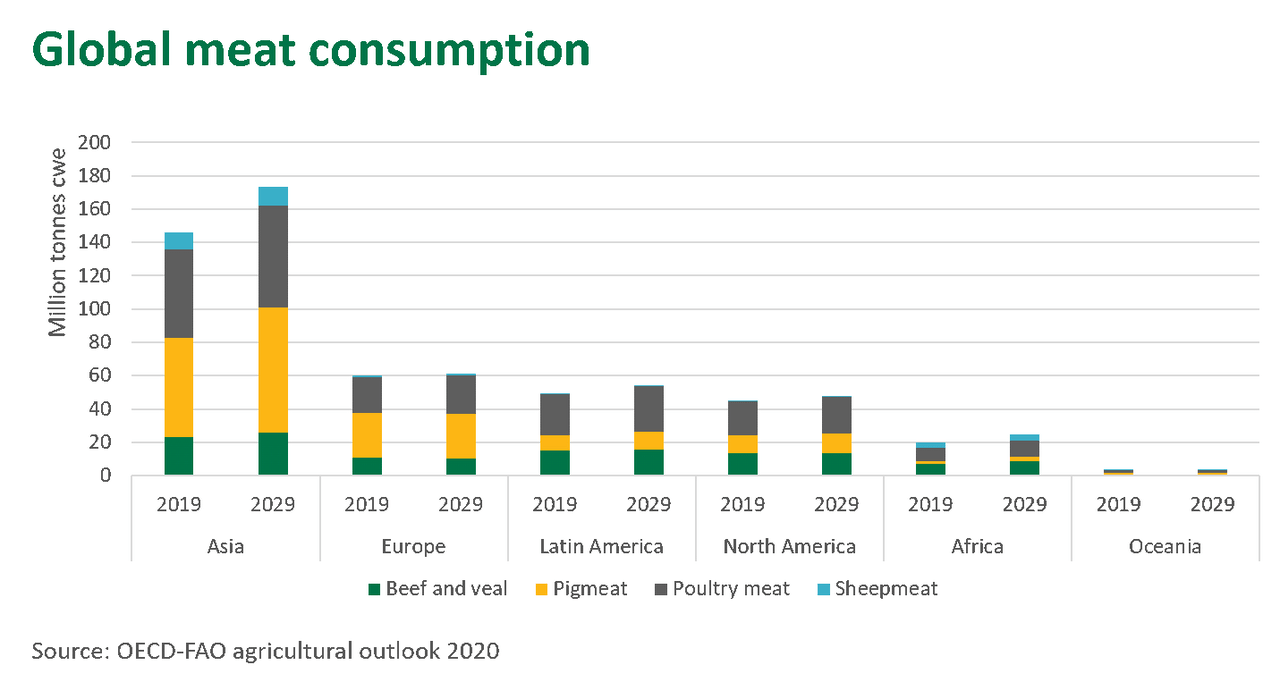 As you can see in the chart above, meat consumption in Asia is forecasted to grow much faster than that of North America or Europe. It is expected that Asian consumption of meat products will expand to nearly 180 million tonnes consumed annually before the end of the decade.
Financials
Revenue and Earnings Growth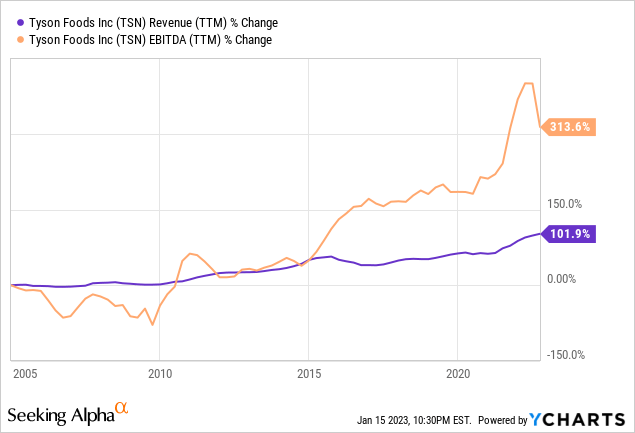 Looking at its revenue and earnings growth it's clear Tyson has been a steady performer increasing revenues and earnings by 4x and 2x respectively since 2005.
Alongside revenue growth, Tyson improved its operating efficiency over the years having nearly doubled its gross profit margin since 2005 from ~6% to over 12%.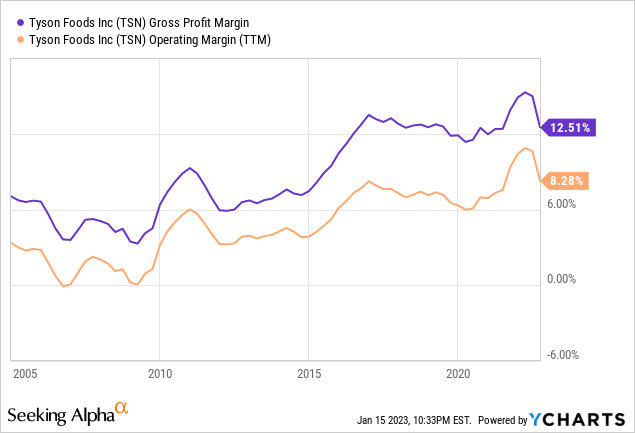 As Tyson grows it benefits from economies of scale which allow it to acquire inputs more cheaply and price its products with better accuracy than smaller peers.
Dividend Growth and Share Buybacks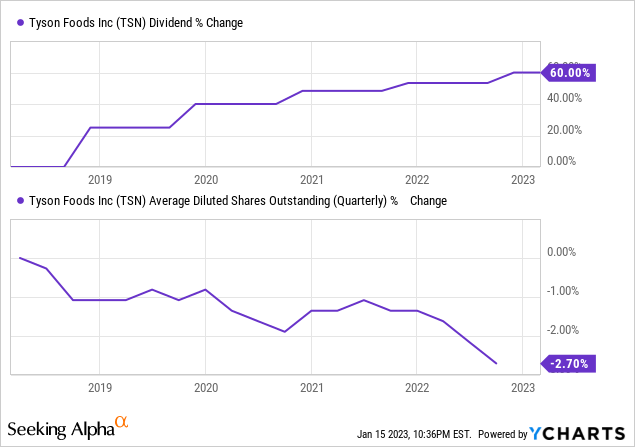 And unlike some other companies out there (tech stocks by in large) Tyson has returned capital to its shareholders in a big way. Over the past 5 years, Tyson has boosted its dividend by 60% and bought back shares at the same time.
That's roughly a 10% CAGR! Not bad.
Return on Invested Capital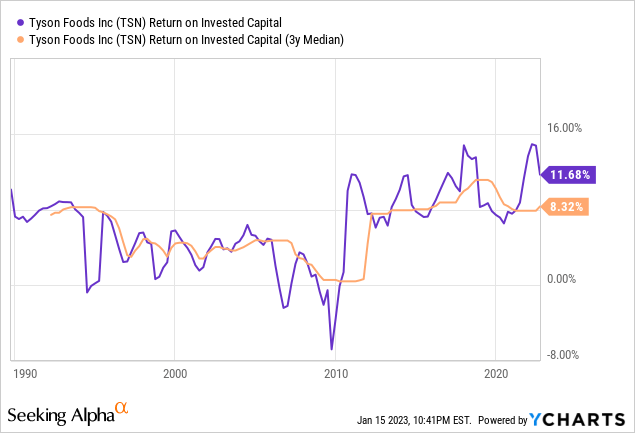 Post the great financial crisis Tyson has maintained a return on invested capital hovering around 8%. If I were to identify one concern I have with Tyson from a financial perspective it would be this. Sporting a ROIC ~8% suggests to me that Tyson may have limited opportunities to effectively deploy its capital.
Charlie Munger explains why this may be an issue:
Over the long term, it's hard for a stock to earn a much better return than the business which underlies it earns. If the business earns 6% on capital over 40 years and you hold it for that 40 years, you're not going to make much different than a 6% return

– Charlie Munger
Risks
While I am optimistic about Tyson's ability to perform given their long track record, it's important to note that consumer tastes are shifting, and while I personally love meat a number of consumers are moving towards vegetarianism and veganism. Additionally, those that continue to eat meat are demanding improved conditions for the animals.
Changing consumer preferences: As I just noted above, consumers are becoming more health-conscious and environmentally aware, and are increasingly turning to plant-based and organic food options.
This trend poses a threat to Tyson Foods, as the company generates a significant portion of its revenue from meat and poultry products. According to Meticulous Research, the global plant-based meat market is expected to reach $74.2 billion by 2027, growing at a CAGR of 9.6% during the forecast period. This indicates a growing demand for plant-based products, and could potentially impact Tyson Foods' revenue from its meat and poultry products.
Animal welfare concerns: Animal welfare concerns have been a growing issue in the food production industry, and Tyson Foods is facing increasing pressure from animal welfare groups and consumers to improve the treatment of animals in its supply chain.
According to a study by the American Society for the Prevention of Cruelty to Animals (ASPCA), consumers are willing to pay more for meat, eggs, and dairy products from animals that were treated humanely. This indicates a growing consumer demand for humanely-raised animal products, and could potentially impact Tyson Foods' sales if the company is not able to address animal welfare concerns.
Valuation and Conclusion
Company
Current Stock Price
EPS 2023 Est.
2023 P/E
TSN
$65
$6.47
10.0
(PPC)
$26
$2.11
12.2
(CALM)
$54
$4.77
11.3
Average PE (excl. TSN)
11.8
Compared to its peers' forward PE ratios Tyson is underpriced at its 10x level, albeit by a relatively small margin. Pilgrim's Pride and Cal-Maine trade at a 12.2x and 11.3x ratio respectively. Given Tyson's strong track record, I'm not sure that the discount is warranted.
Pricing Tyson with its peers' forward PE ratios shows that its share price could trade as high as $79 a share if it were to reach the same pricing as Pilgrim's Price. This indicates that shares could increase by 21% on margin expansion alone. Again, not bad!
Given its steady performance and relative undervaluation versus its peers, I rate Tyson a buy and I am setting my 1-yr price target to $79 a share.
Thank You!
Dear reader, thank you! Each time I have the opportunity to interact with one of you it makes my day just a bit brighter. And I am not just saying that. I truly mean it! So from the bottom of my heart, thank you for taking the time out of your day to read my article. Feel free to sound off in the comments below and I will get back to you with a response.